Hair Breakage? Things To Check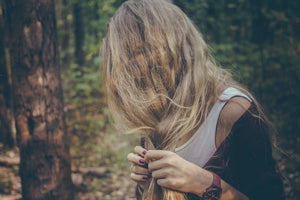 1. AGE
Most people don't like to hear this, but as we age, we experiment hormonal changes and our hair becomes weaker, more fragile and vulnerable to breakage.
2. DIET AND LIFESTYLE
Unbalanced diets and stress combined with chemical exposure and environmental pollutants can produce nutritional deficiencies and mineral deficits. It is recommended to use a conditioner to provide enough lubrication and to avoid breaking the hair while brushing it with a comb. Use a comb with wide teeth or your fingers to comb through your hair to detangle.
3. COLOR
Frequently coloring your hair with cheap products loaded with chemicals can lead to hair breakage. This is due to a break down of the protein of the hair shaft. It is a good idea to  trim your hair at least every six to eight weeks to get rid of dead ends and don't over-process with highlights. Use a special hair mask once a week. 
4. FLAT IRONS AND BLOW DRYING
The constant use of blow drying and flat irons at high temperatures damages your hair and causes breakage, so set the flat iron and any other tools temperature at a maximum of 400°F.
Leave a comment
Comments will be approved before showing up.
---
Also in News
Most men have more symptoms of hair shedding and other issues between September and November because the hair follicles enter their resting (telogen) phase mid-summer. This causes more hair than normal to fall out. The follicles will stay in this phase for several months, but the hair will begin to regrow in winter when Mother Nature thinks you need it most.
We've all heard the warnings over the years: Your metabolism goes on strike overnight, so you shouldn't eat too close to bedtime or that food will sit in your stomach like a rock (at least until it migrates elsewhere on your body and refuses to budge). And yet I've done it. You probably have too. So, how bad is it to eat right before bed? And is it smarter to skip a meal altogether if you miss that dinnertime window? Here's what the experts have to say.
The nutrients that are naturally contained in an egg yolk are the same ones that are in healthy, glossy hair. Some people apply egg yolk to their scalp as a treatment for hair loss, brittle hair, or to try to make their hair grow faster.