Nine Ways to Damage Your Skin That Maybe You Don't Know (Part 1)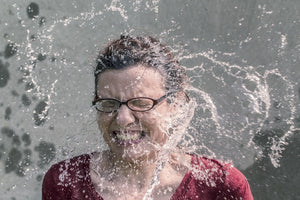 Christie Kidd, a Beverly Hills-based dermatologist whose clients include Kendall and Kylie Jenner, and Alexandra Wagner, a licensed aesthetician and skin-care specialist, help us to find out the all the sneaky ways we could be damaging our skin, without even realizing it.
Clean your sunnies and phone often
Ever notice blemishes appearing on your cheeks and the bridge of your nose? Your sunglasses and cell phone might be to blame (after all, when's the last time you wiped down either?). "Even just touching a part of your face with unclean hands can trigger zits," Wagner says. "Often, I can tell when people are touching a part of their face as a habit — the skin in that area appears to have more acne and blackheads." The fix? Keep your hands off your face, and clean your sunnies and phone often.
Use a topical serum for exfoliation
Think twice before you go running to the store for a powerful exfoliator designed to buff away dry, flaky patches or clean out clogged pores. According to Kidd, anything too abrasive — like harsh exfoliators and sponges — might harm, rather than help, your skin. "Pimples don't need to be aggravated even more," she says. "It's best to use a topical serum for exfoliation, which allows cellular turnover to happen without scrubbing off your skin. I also recommend simply using your cleansed hands, which are softer and gentler, to wash your face."
Wagner suggests avoiding sulfates
We usually trust whatever our favorite brands tell us about their products, but it's important to pay attention to ingredient lists and find out what could irritate your skin type. For example, Wagner suggests avoiding sulfates, which lurk in many skin-care and hair products. "Sulfates can strip your skin of oil and cause your glands to overproduce oil, creating acne," she explains. "Also, keep an eye out for parabens, phthalates, triclosan, PEGs, and synthetic fragrances, all of which can throw off your hormones."
Pack your favorite toner and some cotton balls in your gym bag
Working out has many benefits, but your post-gym skin-care regimen is just as important. In fact, it could be the key to maintaining a clear complexion. If you're lazy about washing your face immediately after a sweaty treadmill session, you run the risk of major breakouts. As an alternative, Wagner suggests packing your favorite toner and some cotton balls in your gym bag. "This way, you can balance your pH and quickly clean off any leftover sweat and bacteria," she says. CONTINUE IN PART 2.


Bibliography: Tse, T., Care, B. •, & Cortes., P. B. (2016, February 4). 9 Ways You're Effing Up Your Skin & Don't Know It. Retrieved March 09, 2017, from http://www.refinery29.com/common-skin-mistakes
Source: Refinery29
Leave a comment
Comments will be approved before showing up.
---
Also in News
Most men have more symptoms of hair shedding and other issues between September and November because the hair follicles enter their resting (telogen) phase mid-summer. This causes more hair than normal to fall out. The follicles will stay in this phase for several months, but the hair will begin to regrow in winter when Mother Nature thinks you need it most.
We've all heard the warnings over the years: Your metabolism goes on strike overnight, so you shouldn't eat too close to bedtime or that food will sit in your stomach like a rock (at least until it migrates elsewhere on your body and refuses to budge). And yet I've done it. You probably have too. So, how bad is it to eat right before bed? And is it smarter to skip a meal altogether if you miss that dinnertime window? Here's what the experts have to say.
The nutrients that are naturally contained in an egg yolk are the same ones that are in healthy, glossy hair. Some people apply egg yolk to their scalp as a treatment for hair loss, brittle hair, or to try to make their hair grow faster.