Nine Ways to Damage Your Skin That Maybe You Don't Know (Part 2)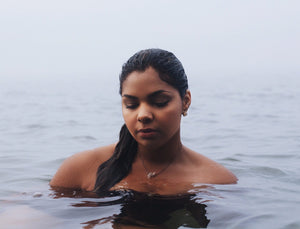 Swimmers, beware
Swimmers, beware: "Chlorine can dry out the skin and cause oil glands to overproduce oil," Wagner says. If you're a water baby, just be sure to cleanse your skin immediately after a dip in the pool to thoroughly remove any traces of chlorine. Wagner suggests using a mild cleanser followed by moisturizer.
Clean your makeup brushes and sponges
Cleaning your makeup brushes and sponges is a drag, but Kidd promises that a little diligence goes a long way. "I often hear about girls using the same brush over and over again to apply foundation without ever washing it," she says. "These tools can harbor bacteria and while they may not be the main cause of your breakouts, they're certainly not helping." She recommends quickly rinsing them after every use, if possible.
Excessive sugar can really cause acne
It's tempting to believe that your diet doesn't affect your skin at all, but Wagner insists that it does and that most people are stubbornly in denial about it. "Excessive sugar can really cause acne," she says. "Sugar spikes insulin levels, which leads to more breakouts. We've solved a lot of skin issues when people listen and decide to seriously cut sugar out."
Pay attention to your complexion
This may seem obvious, but many people are automatons when they're applying their daily cocktail of products. Pay attention to your complexion: Is it changing because of the season? Dried out because you've been traveling? Red and irritated thanks to stress or hormone levels? For example, Wagner says, "Everyone has different skin, but almost everyone sees more dryness in the wintertime."
Bibliography: Tse, T., Care, B. •, & Cortes., P. B. (2016, February 4). 9 Ways You're Effing Up Your Skin & Don't Know It. Retrieved March 09, 2017, from http://www.refinery29.com/common-skin-mistakes
Source: Refinery29
Leave a comment
Comments will be approved before showing up.
---
Also in News
Most men have more symptoms of hair shedding and other issues between September and November because the hair follicles enter their resting (telogen) phase mid-summer. This causes more hair than normal to fall out. The follicles will stay in this phase for several months, but the hair will begin to regrow in winter when Mother Nature thinks you need it most.
We've all heard the warnings over the years: Your metabolism goes on strike overnight, so you shouldn't eat too close to bedtime or that food will sit in your stomach like a rock (at least until it migrates elsewhere on your body and refuses to budge). And yet I've done it. You probably have too. So, how bad is it to eat right before bed? And is it smarter to skip a meal altogether if you miss that dinnertime window? Here's what the experts have to say.
The nutrients that are naturally contained in an egg yolk are the same ones that are in healthy, glossy hair. Some people apply egg yolk to their scalp as a treatment for hair loss, brittle hair, or to try to make their hair grow faster.