Why Does My Hair Hurt?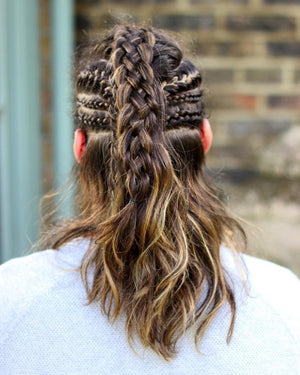 If you don't shampoo and condition for a while, oils that your scalp produces naturally accumulate around your hair shaft, promoting the overgrowth of yeast on your scalp. "It's not actually that your hair hurts, but the skin and perifollicular area of the scalp—the region around each hair, pore, or follicle," explains Manhattan-based dermatologist Francesca Fusco.

"The scalp is incredibly rich in blood supply, nerve endings, and oil glands. Additionally, this yeast (pityrosporum) builds up, leading to dandruff. The combination of these factors can cause inflammation, which translates to sensitivity that can feel like your hair hurting."
High ponytail, cornrows, buns, and braids
The fact that greasy hair is often put up in a tight ponytail—and sometimes swept up in a bun for sleeping—doesn't help matters. Wearing your hair in the same style, like a high ponytail, cornrows, buns, or braids for days at a time, can also contribute to more pain. "If this happens, I recommend using a pH balancing scalp care shampoo," says Dr. Fusco. "It will eliminate flakes, yeast, dandruff, and nourish hair." Also, avoid using elastic hair ties; instead opt for cloth ponytail holders in looser styles to mitigate pulling at the scalp.
Hair needs to be washed on a regular basis
Whether your follicles feeling like they're hurting is the result of infrequent cleansing, tight styling techniques, or a symptom of a migraine headache, your hair isn't all that different from your body—it needs to be washed and worked out on a regular basis in order to be the best it can be. So at the end of a long, hard, stressful day, forget about trying to preserve a particular style for as long as possible, and instead, slow down and treat your hair to some much-needed self-care.
Bibliography: Macon, A. (2017, March 22). Yes-Hair Hurting Is a Real Thing. Here's How to Stop It. Retrieved April 27, 2017, from http://www.vogue.com/article/why-does-hair-hurt-pain-shampoo-conditioner
Leave a comment
Comments will be approved before showing up.
---
Also in News
Most men have more symptoms of hair shedding and other issues between September and November because the hair follicles enter their resting (telogen) phase mid-summer. This causes more hair than normal to fall out. The follicles will stay in this phase for several months, but the hair will begin to regrow in winter when Mother Nature thinks you need it most.
We've all heard the warnings over the years: Your metabolism goes on strike overnight, so you shouldn't eat too close to bedtime or that food will sit in your stomach like a rock (at least until it migrates elsewhere on your body and refuses to budge). And yet I've done it. You probably have too. So, how bad is it to eat right before bed? And is it smarter to skip a meal altogether if you miss that dinnertime window? Here's what the experts have to say.
The nutrients that are naturally contained in an egg yolk are the same ones that are in healthy, glossy hair. Some people apply egg yolk to their scalp as a treatment for hair loss, brittle hair, or to try to make their hair grow faster.